Vishu the harvest festival of Kerala,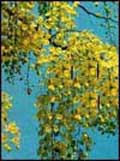 The hallmark of the festival is the Vishu Kani, which all members of a family witness early in the morning. The Kani is set in an 'uruli' (a broad vessel) with Lord Krishna as the principal deity surrounded by nilavilakku (traditional lamp) rice, and different types of fruits. After seeing the Vishu Kani, elders of the family present Vishu Kaineettam (money as gift) to youngsters.
Children and elders attired in new clothes exchange greetings with each other on the occasion. Crackers are burst early in the morning in some parts of the state.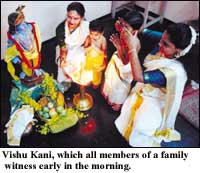 Thousands of devotees witness the vishukani at the Ayyapa temple in Sabarimala. Melsanthi enter the sreekovil in the Brahma muhurtahm, lit the lamp beofre the presiding deity and witness the vishukkani first. Then he opens the sreekovil for the devotees to have the auspicious darshan.
In Guruvayoor also, many devotees from all over the state witness the vishukani at the Guruvayur Sree Krishna temple. There is also a kazhcha seeveli procession inside the temple with five caparisoned elephants accompanied by chenda melam.