The day when dog rules the faith
Dogs too have a temple for them. Ignore the eyebrows that rise at this. But that is the unique feature of the ten-day annual Meenamaholsava at the Ulloor Sree Balasubrahmaniya Swami Temple.
The temple complex is quite old and has Shiva, Shasta and Krishna deities in addition to the presiding deity of Balasubrahmanya. The legend has it that Tarakasura, during his fight with Lord Subrahmania hid in the thick forests, now the temple premises. Lord Subrahmaniya could not find Tarakasura, and Shasta, who had come to help his brother in the fight, pitched in. His constant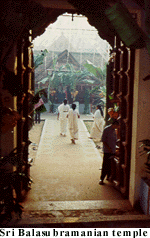 companion was a dog and this dog is supposed to have smelled the Asura every time the God could not see him. And it is as veneration to this legendary dog that the "nayaveyppu" is held every year. The "naya"(dog) is taken out in a procession around the temple and installed in the shrine along with the Shasta. Only that the dog looks more like a miniature of an elephant.
The festival begins with the ceremonial flag being raised by the temple high priest. The other highlights of the ten-day festival are the "Palliyannilavu". The deity, decked in all the finery and taken out in a chariot around the temple three times and will be accompanied by the traditional temple orchestra "panchavadyam". Oil lamps lights up the whole temple complex during the pallinyannilavu procession. The "aarattu" or the procession is held on the 9th day and offerings are made to the deity. The festival comes to an end with the ceremonial flag being lowered. And the devotees wait for next year for the another festival, treasured with glowing memories of the last one.