Thrissur Pooram
Elephants, percussion, folk art. All these are the insignia of a temple festival. Among the varieties of festivals celebrated in Kerala, Thrissur Pooram is the most thriving, spectacular, eye dazzling and earth thudding.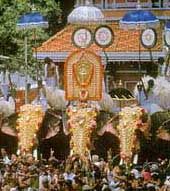 The Thrissur Pooram is a thirty hour long show, starting at 6 a.m. on the Pooram day and ending at 12 noon on the next day. Broadly it consists of elephant processions, taken out from the major and minor temples of the town and suburbs which arrive on the fringe of the circular road- Swaraj Round- and gracefully move to the Vadakkunnathan Temple. They March out after paying homage to Vadakkunnathan (Lord Siva), the presiding deity of the town.
Except for some special rites in the temples participating in the festival, Thrissur Pooram with its colourful elephant rallies, percussion orchestra and fireworks is highly cosmopolitan in its outlook and practice. Pooram is an expression of aesthetic human minds and popular fascination for rhythm, sound and colour and it does fascinate and thrill people of all tastes, and has a universal appeal too.
Spectacular pageant of fully caparisoned elephants, sonorous percussion, quintet like Panchavadyam and Paandimelom and grandiloquent fireworks give you innumerable moments to cherish.
The revelry begins in the early hours of the morning. As the crackers are fired, nearly for fifteen minutes all eyes are astounded, and ear deafened at the terrific din and light-produced by the crackers and dynamites piercing the stratosphere, chorusing the crackers. Gaining momentum, second after second it progresses, with a multitude of light and clamour finally roaring into a shattering climax.
Later to the day, the orchestra gets going as fifteen elephants carrying the deities from either side proceed towards the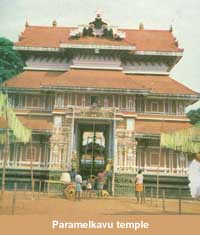 Sreemoolasthanam. As the orchestra relinquishes the two deities on elephants meet face to face, bid farewell, pay respects to Vadakkunathan and leave to their respective abodes on solitary elephants.
The Pooram crowds dissipate with visions of the glitter and colour of the pageant and with ears reverberating with the rolling of drums and din of fire works. They leave deciding to come next year too, for "it is the majestic festival of festivals which even gods would like to watch with bewitched eyes."
The two arrays of 15 elephants each stand still facing each other for an hour. Traditionally, the rivalry of two groups representing the main geographic divisions of Thrissur, Paramekkavu and Thiruvambadi add the grandeur of Pooram. Both teams field face to face an array of richly caparisoned elephants. And then 'Kudamattom', an exchange of umbrellas is conducted thereafter. 'Kudamattom', soon develops into a competition in the swift and rhythmic changing of brightly coloured and sequinned parasols.
The silk umbrellas of their mounts keep on changing-one brilliant colour following another - the peacock feather fans held high and yak tail bunches waved uniformly and artistically. The whole event takes place in rhythm to the traditional orchestra 'Pandimelam'.