The Meenabharani festival falls on the Malayalam months of Meenam (March/April). And old timers say that this is that time of the year when the good triumphs over the evil.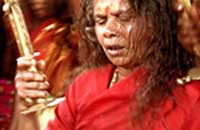 The highlight of the Meenabharani festival in the Travancore area is the Thookkam, oottam, thalapoli and thirumudi procession. The ritual paraneettu is symbolic of the fight between the goddess and darikan, the Devil. Devi's paranu (sort of platform) is built from the trunk of coconut trees measuring a length of 70 feet. They are erected on the ground with about 6 feet dug into the sand. Darikan's paranu is built at a distance of about 100 feet from the Devi's and it is built from the trunk of the arecanut tree. The belief is that the symbolic fight between the Devi and Darikan, enacted at the festival, represents the fight that took place in the astral space.
Where as 50 kms north of Cochin is the ancient port town of Crangannore, now called as Kodungalloor. The goddess Bhagavathi is the presiding deity of the ancient temple here. And this temple is also the meeting place of nine deities from nearby "desams". The goddesses from these desams will leave for Kodungallor on Aswati Day, the day before the bharani and meet at the temple premises at Kodungallor.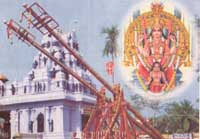 The festival attracts the largest congregation of Velichappadu (oracles), both men and women. The huge idol of Bhadrakaali, with eight hands, each holding weapons like swords and wheels evoke reverential fear in the minds of the devotees. Velichappadus dressed in red costume and with streaming hair, smear their body with turmeric powder, wear huge waist belts studded with bells and hold aloft sacred swords of different sizes and shapes.
Once in a trance, these oracles perform a frenzied dance, repeatedly slashing their foreheads with curved swords. As a supreme symbol of their devotion they make a sacrificial offering of their own blood to the deity. A grand procession (Ezhunnallathu) with nine majestic tuskers is held in the evenings followed by a series of cultural programmes staged in the temple premises.
The festival reflects some of Kerala's own temple traditions. Colourful and scintillating performances of cultural programmes mark the occasion.