Feast at Edathua Church
The shores of Pampa are special to the Keralite, in more than one aspect. Lamps lit along these shores showed way to the relgious and cultural history of the land. So when the annual feast of St George church Edathua is held during April-May, it is another moment for Kerala to celebrate.
Modelled on the medieval churches of Europe, the shrine is the ultimate solace to many devotees. Situated on the banks of the, river Pamba, is dedicated to St.George.
During the feast, the statue of St.George, decked in gold, is carried out in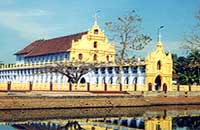 procession and placed on the dais at the centre of the Basilica. Processions are held everyday, and dazzling fireworks display highlights in the initial as well as concluding day's rituals.
The Kodiyettam marks the beginning of the festival.
As in all other festivals typical of Kerala, the church grounds swarm with vendors and stalls selling all kinds of things from food to utensils to jewellery. Cultural performances are held every evening.
Thousands participate in the festival from Kerala and the neighbouring Tamil Nadu. Every year the number of devotees who frequent this pilgrimage centre is on the rise.