Pongala festival at the 'Sabarimala of women'
About 2 million women devotees congregate to offer pongala at the famed Attukal Devi temple in Trivandrum, known as the "Sabarimala of women". The festival falls in the month of February every year.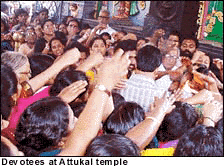 The atmosphere is filled with "thottam paattu" and "Devi sthotras" during the 10-day long Pongala festival at the Attukal Bhagavathy temple. The festival, which falls on the Karthika of the Malayalam month of Kumbham, begins with the temple tantri performing the "kaappukettu" and "kudiyiruthu" rituals. The "kudiyiruthal" is performed after the tantri bringing the lighted "nilavilakku" from the sanctum sanctorum to the "pandal" in front of the temple. A large number of devotees witness the ceremonies. The temple and the adjacent areas are decorated with arches and festoons.
The festival concludes with the "pongala nivedyam" preparation on the asterix of Pooram. It is followed by the "kuruthi tarpanam". Thousands throng the Attukal temple to watch the "kappukettal" ceremony. This ritual marks the beginning of the Pongala festival at the famed Attukal Devi temple. Various special poojas and age-old rituals related to the festival are held on all the festival days.
"Kuthiyottam" is one of the most important rituals followed in connection with the festival. Little boys below the age of 12 years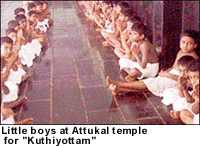 take part in the ritual. The belief is that these young boys represent the mother goddess's soldiers. Each one of them offers "1008 pradhikshina namaskarams " to the deity during this period. They undergo strict religious observances and stay at the temple for seven days, and on the last day of the festival, they are taken out as a part of the procession to the Dharma Sashtha temple near Manacaud near the Attukal temple.
Various cultural programmes are also held as part of the festival. A procession ("Parakkezhunnallippu"), featuring traditional percussion ensembles (Panchavadyam and Chenda Melam) and various art forms, is taken out on the penultimate day.
visit www.attukal.org or www.keralaonline.com/attukal for more details
Offerings Online:
Credit card payment may be made over e-mail (addresses:
attukal@md3.vsnl.net.in and attukal@keralaonline.com) , for offerings at the temple and poojas.