Wayanad, the northern hill district of Kerala, forms the rendezvous for the flora and fauna in the state. Elephants, tigers, jungle cats, civets, bison,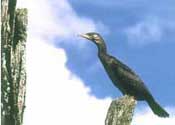 peacocks, woodpeckers among others settle down in the greenery that still remains untouched by man's vicious hand. And this makes Pakshipathalam, perched at a 1740 m above sea level a picturesque sleepy little place for the nature lover to dream of.
Pakshipathalam, literally translated means hell lot of birds. Here virgin forests, rivulets and steep hills together offer challenging avenues for trekking. A cave which ascetics of ancient ages are believed to have used for meditation, has become a major attraction for tourists. History always sells.
Close by is Kuruvadweep, an island (dweep) well known for its rare ecology. Located 17 km from Mananthavady, Kuruvadweep is a 950 acre stretch of evergreen forests on the banks of the Kabani river, and home to rare species of birds, orchids and herbs.
Getting there:
Pakshipathalam is about 7 km away from Thirunelli and trekking is the only mode of reaching this place. Thirunelli is about 32 km from Mananthavady.
Nearest railway station: Kozhikode, about 106 km from Mananthavady.
Nearest airport: Karipur International Airport, Kozhikode about 23 km from Kozhikode town.