Pathanamthitta -- headquarters of pilgrimage tourism in Kerala
Situated near the Western Ghats and hedged in by the hills, Pathanamthitta is a treat to the eye with its vast, unending stretches of forests, rivers and rural landscapes. Blessed and enriched by nature, the district is famous for its scenic beauty, fairs and festivals. Pathanamthitta engrossed in the hilly terrain of Kerala can rightly be called the headquarters of pilgrimage tourism in the state. Sabarimala, an important Hindu pilgrimage centre attracts millions of pilgrims from different parts of India and the state. Pathanamthitta the 13th district in the state has been carved out mainly from erstwhile Quilon and Alleppey districts with a nominal portion of Idukki district also. Thus in November 1, 1982 Pathanamthitta district was born.
SIDELIGHTS: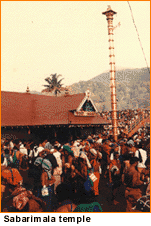 Sabarimala (Pilgrim centre): Sabarimala, is one of the major pilgrim centres in south India. This holy shrine dedicated to Lord Ayyappa attracts millions of pilgrims from all over, especially from other parts of south India. The main pilgrimage season is from November-January. Vehicles cannot go beyond Pamba and the last 5 km to the shrine can be reached only by trekking. Devotees throng in not only from Kerala, but from other neighbouring states as well. In fact, the number of devotees from Andhra Pradesh and Tamil Nadu visiting the temple has been steadily rising through the years.
Festivals
Maramon Convention: Maramon is about 16 kms east of Thiruvalla. The Maramon Convention, believed to be the largest Christian gathering in Asia, is an assembly of Christians from all over India, who come here to listen to the gospels read and expounded by scholoars of Christianity through out India and abroad. It is held during the month of February on the banks of the river Pamba. Christians arrive with cadjan leaves and bamboo poles and erect a huge "pandal". In the vicinity, tents and sheds are also put up for various purposes. People come in long "valloms" (country boats) with canopies and anchor them down the river at this time. Temporary restaraunts, religious book stalls, etc, also appear in the vicinity.
How to get there
Air: The nearest airport, Cochin, 152 km away.
Rail: Rail link at Tiruvalla, 30 kms away.
Road: Pathanamthitta is linked by motorable roads to other towns in Kerala.