Malampuzha
Malampuzha's major tourist attraction is the site of a large irrigation dam built across the Bharathapuzha. The town is set at the base of the hills of the Western Ghats, and around the large reservoir are beautiful rose gardens and amusement parks for children as well as facilities for boat cruises on the reservoir. The famous work "Yakshi" by Kerala's acclaimed sculptor Kanayi Kunhiraman is another attraction in this garden.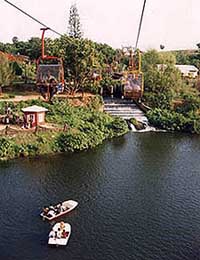 Modelled after the amusement park in Delhi, Bombay and Madras is the Fantasy Park, the first amusement park in Kerala. Built on 9 acres of land along the road, the park is situated near to the Rose garden as well.

Hailed as the Vrindavan of Kerala, Malampuzha Garden exudes a perfect synchronisation of the grandeur of the mountains blending with the serenity of rivers. The natural grandeur of the garden is enhanced by fresh water aquarium, snake park and children's park with a toy train. The water reservoir in the middle of lush green gardens is ideal for boating and fishing.
The first rock garden of South India, sculpted by world renowned Padmshree Nekchand of Chandigarh is also at Malampuzha. The star attraction at the Malampuzha Garden is the udhan khatola- South India's only Passenger Ropeway.
Location
How to reach Malampuzha
Distances:
From Palakkad -10 Kms
From Coimbatore - 60 Kms
From Chennai - 550 Kms
From Bangalore - 425 Kms
Nearest Station - Palakkad
Nearest Airport - Coimbatore
Where To Stay In Malampuzha
Malampuzha Garden House (K.T.D.C.)
Malampuzha
Phone: 0491-815217
Govardhan Holiday Village III/413, Rock
Garden Road, Malampuzha
Phone: 0491-815262 /63/64