Kollam (Quilon)-- the enchantress
Kollam kandavanu illam venda. This proverb in Kerala, literally means for the one who has seen Quilon, he doesn't need his home anymore. Though it can conveys different things to different people, one thing is pretty clear. Quilon must be a damn good enchanting place. It does have a charm of its own and haunts the tourist long after he/she goes back. If this gets you started, let's see its history briefly. An ancient seaport town dating back to the 9th century A D, Kollam has given its name to the Malayalam era Kollavarsham, which began in 825 A D, and is said to be calculated from the date of founding of this town. So the relation between this quaint little town and Malayalam era makes it more interesting in a historic perspective also. That year Persian immigrants set up a township in Quilon and built a church there, having received a charter of privileges from the Raja of Venad. The town's commercial importance led the Portuguese to set up a factory here in 1502. This passed into the hands of the Dutch in 1661 and later to British, in 1795. Today the red-tiled roofs that dot Kollam's low skyline is a reminder of the architectural influences of the Dutch and British villas. Furthermore, the Chinese fishing nets along the Ashtamudi lake are testimony to the trade links with China.
SIDELIGHTS:
Palaruvi water falls: 5 km from Aryankavu are the lovely waterfalls at a height of 300 feet. Nearby one can see smaller cascades.


Adventure park: The Quilon District Tourism Promotion Council organises backwater cruises from here and during the season extends them to Alleppey. This park, situated next to the government guest house at Asramam, is sure to delight children and grown-ups alike.
Aryankavu (pilgrim centre): On the route to Shenkottah, 70 km from Quilon, is Aryankavu which holds a shrine devoted to lord Sastha. The main festival of this temple is in December.
Festivals: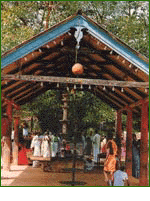 Parabhahma temple, Ochira: Ochira Kali, the fetival celebrated in Parabrahma temple, at Ochira, highlights the martial skill of the participants. On the first two days martial displays are presented in the morning, turning the padanilam, war field, into an area of action packed artistry. On the third, fourth and fifth days there is brisk trade in cattle and agricultural products, now a declining rural spectacle being revived by tradition lovers.